Features
Pixie vs Trello For Accountants & Bookkeepers
Pixie is built to help small accounting & bookkeeping firms to manage emails, tasks, files and client deadlines all in one place. See how it stacks up agai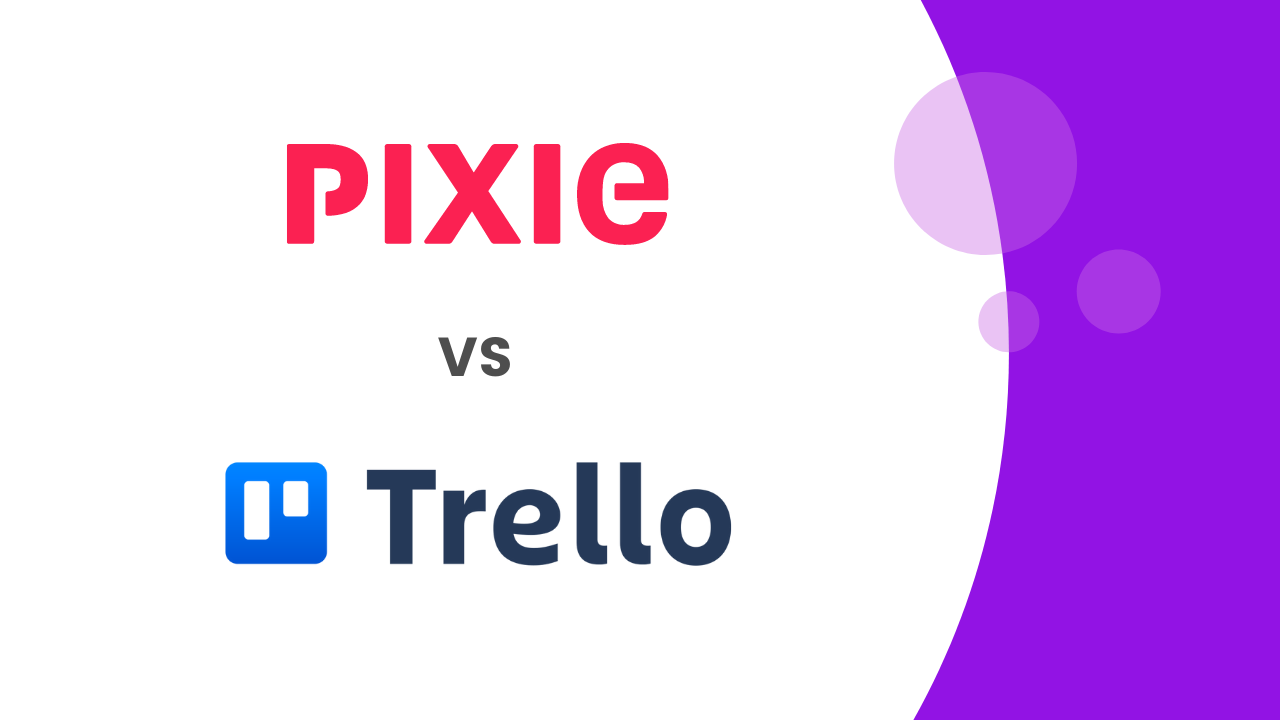 Pixie is built to help small accounting & bookkeeping firms to manage emails, tasks, files and client deadlines all in one place.
See how it stacks up against Trello for accountants and bookkeepers.
‍
Why should accountants & bookkeepers choose Pixie over Trello?
Let's start by saying, there's plenty of room for more than one task management system in the world of software. Everyone has their own preferences with how they like to work and view their workload.
Every tool brings its own pros, cons and unique capabilities, and we're all good at what we do, however, Pixie is designed specifically for accounting & bookkeeping firms, which means a generic project management tool probably won't be as handy for your practice.
We've taken the guess work out and put together this side by side comparison, to show why Pixie may be the better choice for small accounting & bookkeeping firms: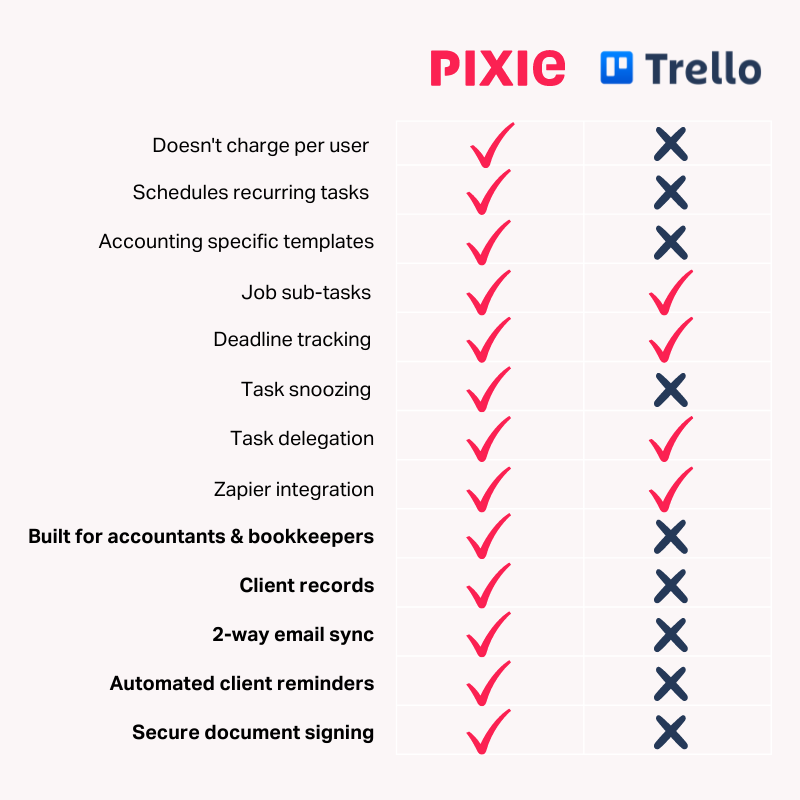 Pricing
Managing your tasks and team works best when each member of your team has their own log in to their platform.
We found that pricing per user can encourage small companies to share log-ins to keep costs down, which means you don't get a true overview of how your team are managing with their own workloads.
So, we don't price that way.
We believe in simple pricing and enabling you to get the most out of your platform.
Visit our pricing page here.
Task management
The nature of your work means that some tasks are recurring. Easily set tasks & jobs to recur on a weekly, monthly or annual basis and never worry about missing them again. If something come up that you don't want to work on right now, simply snooze the task for a later date and be notified when it next comes up.
You can break down larger jobs and tasks into a series of smaller subtasks and track completion of tasks with our progress bar, work reports and deadline tracking. Start to offload work and get your team members more involved by delegating tasks to them in just a few clicks.
Check our our task management page here to learn more.
Client communication
Save time and hassle with automated email reminders. Easily personalise them to strengthen client relationships.
Keep all of your client information safe within the CRM database. Email history, internal notes, files and jobs all in one place. Plus, Pixie automatically attaches documents to the correct client records.
You can also send documents securely for signing with the document signing function.
Email and App Integration
Email integration automatically logs all client communication to the correct task, so you'll never let an important email slip through again. You won't need to keep your email account open in a separate platform, you can send, receive, automate and mange your communications straight from the Pixie app.
Use Zapier to seamlessly connect with all of your favourite apps including Xero, Quickbooks, Practice Ignition & thousands of others, allowing you to become a truly digital firm.
Workflow templates
Pixie comes with some free ready-made workflow templates especially for accounting & bookkeeping firms such as monthly client check-ins and running clients payroll.
If you're currently using Trello to manage tasks, jobs and deadlines in your accounting firm, and you're looking for a simple and effortless practice management solution to save you even more time and streamline your processes, then start a 30-day free trial of Pixie here.
Or book a demo to find out exactly how Pixie can help you run your practice.