Case Studies
How Pixie helped Munro & Partners to scale their accounting firm without hiring more team members
Discover how Pixie helped Munro & Partners to scale up their accounting firm without hiring more team members.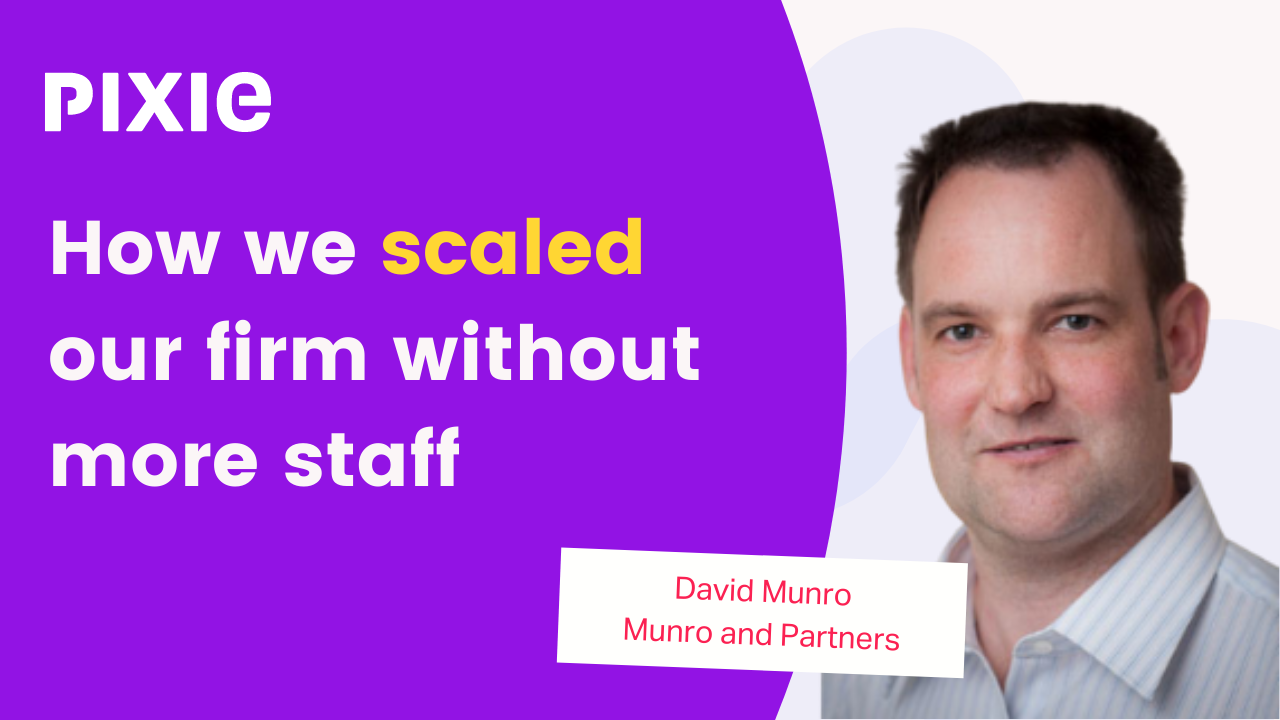 We recently caught up with David Munro from Munro & Partners, a firm based in Farnham. We discussed the benefits of automating client communication and how Pixie has helped them complete VAT returns weeks before the deadline. You can read or watch the full conversation below.

Tell us about yourself and Munro & Partners…
We're a team of 5 based in Farnham, Surrey. We specialise in working with professional services, creatives, and software businesses, although in reality, we work with clients from a wide range of industries.
‍
What challenges were you facing before using Pixie?
We used Workflow Max (Xero Practice Manager), which wasn't the easiest system to use. I didn't feel confident that it was doing the right things. It was too powerful, had too many features and was quite rigid as well.
We were looking for a way to build more automation into our systems and processes to scale up the business without becoming too heavy on staffing.
We also wanted to make sure all deadlines were being met without the stress of missing deadlines.

What was the impact of these challenges on you and your firm?
A mixture of things. Clients weren't happy when deadlines got missed, this led to us being really stressed, and there was a feeling of uncertainty and not knowing if things were in hand.
‍
What initially attracted you to Pixie?
The flexibility of Pixie was the most appealing thing and the fact that I joined at an early stage where I was able to get involved in the development process and feedback ideas to the team.
I also like the ability to bring emails into one place within the workflow and create jobs from emails and then reassign them to other team members.
Pixie allows us to bring everything we need into one place to see where we are with things.
‍
What have been some of the outcomes since implementing Pixie?
Before Pixie, our VAT returns would get done a week or so before the deadline, and certain ones would run right up to the 7th.
But now that we use the automated reminder emails in Pixie, it's completely changed everything, and almost all VAT returns are done well ahead of schedule.
Pixie has helped us to automate several other things, including the onboarding of new clients. We're able to add prospects, collect their information, and then set them up as clients all in one place so that we don't forget anything during the onboarding process.

What would you say to any other firms considering using Pixie?
Just do it; it's a no brainer. It helps you to feel in control and to make sure everything is being thought through properly. It's an absolute pleasure to work with, and I'd strongly recommend it.
If you'd like to see how Pixie can help you to scale your firm without hiring more team members, then start a 30-day free trial here.