Case Studies
How Pixie helped JSM Partners to grow and scale their fast-growth firm
Discover how niching has fuelled JSM Partner's rapid growth and how Pixie is helping them to grow and scale efficiently.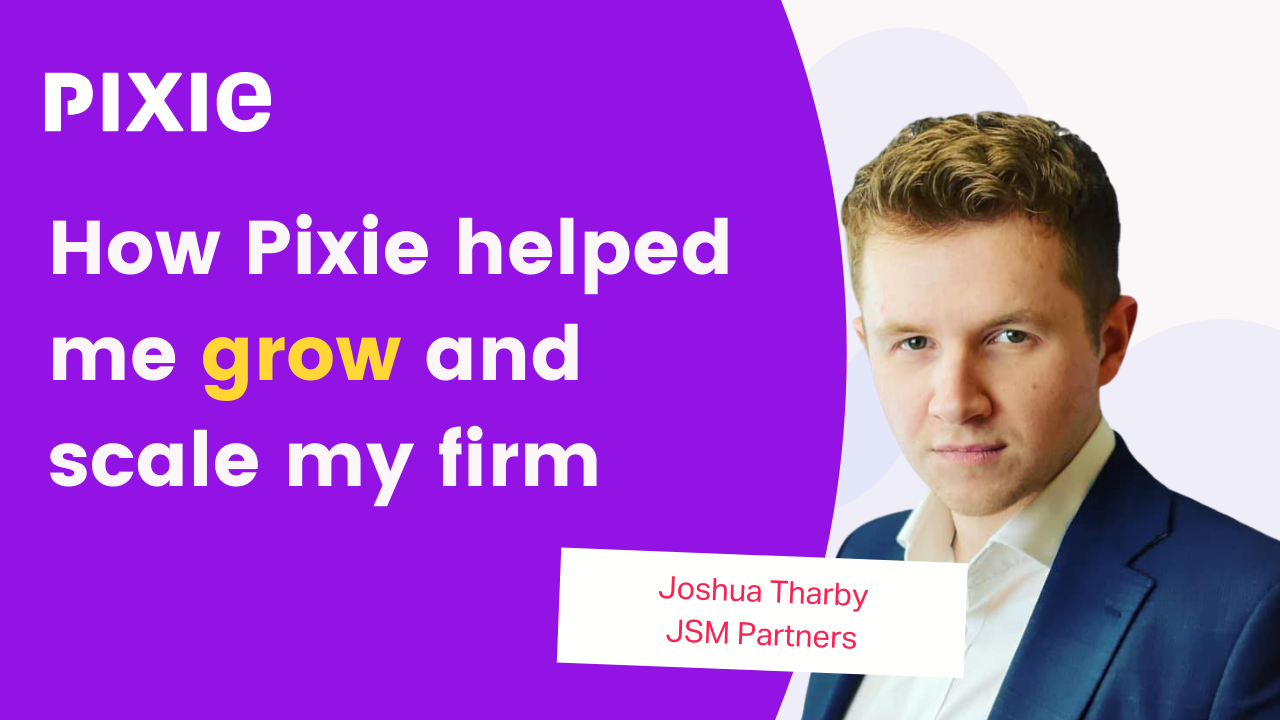 We recently caught up with Joshua Tharby from JSM Partners, a fast-growing firm focusing on the property sector (you can read about their growth strategy here). We discussed how niching has fuelled their rapid growth and how Pixie is helping them to grow and scale efficiently. You can watch or read the conversation below.
‍
Tell us about yourself and JSM Partners…
We're a team of 5 (soon to be more) based in Peterborough, and we mainly work with property investors and other property businesses. I've written a book on property tax, and we've grown so fast because we're one of the leading firms in our sector because of the results we get for our clients.
What kind of challenges were you facing that made you look at tools like Pixie?
We didn't have a strong grasp of what was going on, what was due, or where things were. There was no visibility of the work that was required. We started to pick up occasional late filing penalties for clients, and we weren't giving the best service because we didn't have the right systems in place. Things were falling through the cracks, and that meant losing clients.
Did you try any other tools to solve these challenges?
At the time, we were using Senta, but it required so much work, and it was a continuous process of trying to change and update things. After 12 months of using it and putting a lot of work into getting it up and running, we still never got it where we needed it to be.
Pixie for us worked straight out of the box. From day one, it did the bare minimum of what we needed it to in terms of telling us what jobs are due, where they're sitting, and what team member it's with, all in one place.
That's great! What attracted you to Pixie over other tools?
The fact that it's so easy to use out of the box was important. It looks clean, modern, and aesthetically pleasing. But the biggest factor was probably the pricing.
At the time, we had a few part-time team members and overseas admin assistants that needed their own logins, but they weren't doing that much work. It was uneconomical to pay per-user pricing when they were only doing 10 hours a week. So the fact that Pixie has one transparent fixed-fee made much more sense for us.
The integrations with Companies House, email, and Zapier are also great. They make the whole workflow process quite slick.
Nice. How has Pixie helped you since implementing it?
It's helped us to be more organised. We've grown fast, and we couldn't have done it without Pixie in place. It has allowed us to grow and scale, and most importantly, it works. It does exactly what we need it to do and has allowed us to take on more clients and team members to scale the business.
I'd say it's also saved us a lot of time. Using Pixie to request information for tax returns and other jobs compared to manually requesting information has probably saved us at least 30 minutes per client per year. So the time-savings add up.
What would you say to other firms considering using Pixie?
Just go for it. The system is being developed and improved all of the time, so if you get in now, then you're taking advantage of that. If you're looking for something that works out of the box, then go with Pixie.
You can follow Joshua's journey on Linkedin here.