Case Studies
How Pixie made onboarding staff so simple for Lagom Finance
How Pixie Made onboarding staff so simple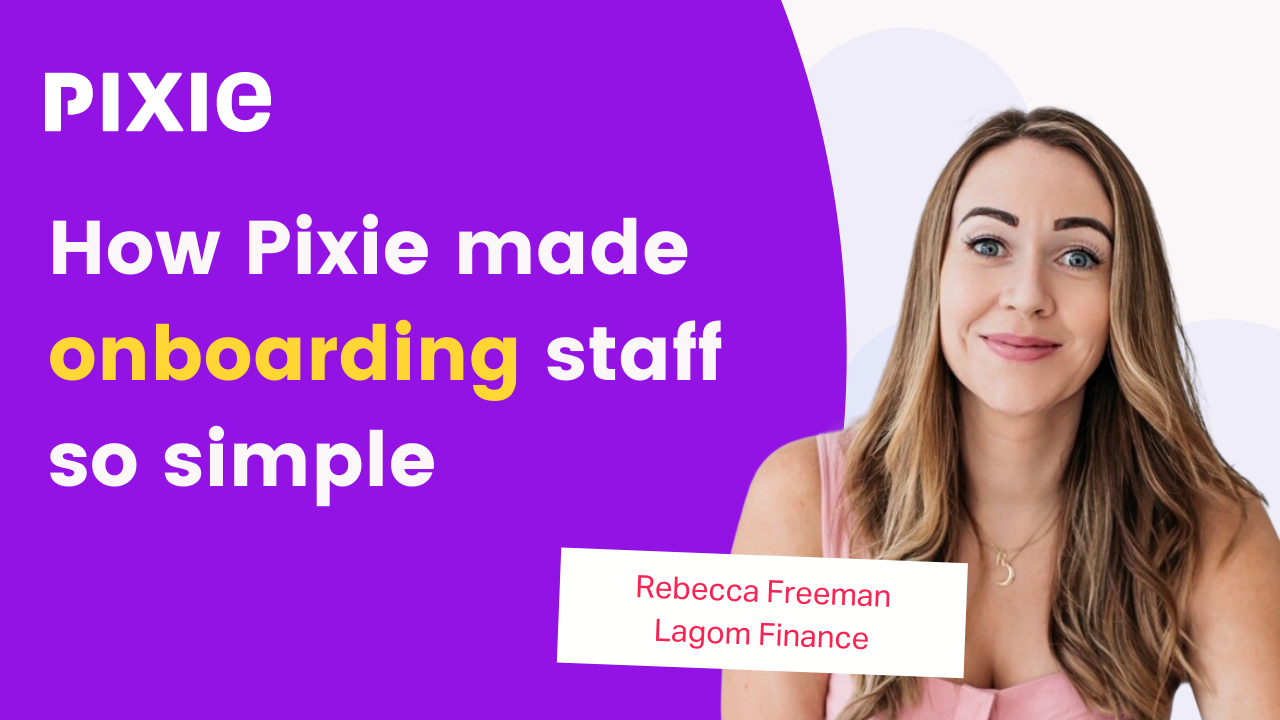 We recently caught up with Rebecca Freeman, founder of Lagom Finance, to learn about how Pixie has helped with successfully onboarding staff.
Tell me about your business?
Lagom Finance is an accountancy firm that specialises in working with female-led businesses to help them gain the confidence and knowledge to take control of their company finances.
I founded Lagom 3 years ago and, at the beginning, it was basically just me doing everything, pulling 20-hour days to remain organised. However, as a software developer, I'd always seen the utility in investing in software before I needed it, using CRM solutions and tax filing platforms to emulate big firms even during the early days. However, I wanted a higher-quality solution that could save me time and help me scale.
At Lagom Finance, we work on a portfolio basis, in which one accountant works with 20-30 clients, handling everything from tax filing and bookkeeping to payroll admin. We've currently got about 120 larger clients, as well as a handful of smaller businesses that are looking for what's effectively an outsourced finance department.
How did you start using Pixie?
We've been using Pixie for about 6 months. Before, we were using Capsule CRM but, as it's not specifically built for accountants, I had to hack everything together to create some semblance of an official process. After this, I moved us to Accountancy Manager, which from a user experience point of view didn't really hit the mark. Even though it had a lot of good features and functionality, it was quite clunky to use.
I heard of Pixie through word of mouth. It immediately appealed aesthetically as well as with respect to its flexibility. Plus, it was very fairly priced.
What's the biggest benefit of using Pixie?
Lagom Finance is 100% remote, as many businesses tend to be these days. As such, our approach to onboarding is a pretty crucial part of how we expand as a firm, especially when it comes to simplifying how we handle recurring tasks and processes.
With Pixie's brilliant template functionality, we can clearly define all of our tasks, from the high level to the granular steps. Pixie helps me ensure everyone's marching to the beat of the same drum with a full audit trail. It gives me full visibility without needing to micromanage anything.
Why would you recommend Pixie to other firms?
Previously, I'd have had to manually write out all the processes, tasks and sub-tasks to get an overview of where I was before I started thinking about improving anything.
After implementing Pixie, with a full arsenal of well-crafted templates, all the foundational work was already laid out. I was able to brainstorm at lightning speed, and some of the pre-made templates even inspired additional ideas for increased efficiency, which I loved.
When you're onboarding staff remotely, it is a big plus to have access to the sort of granular customisability that Pixie offers without the need for an extended session for each new staff member. Pixie took away the hassle of having to explain basic tasks, understand clients without any pre-existing context, and keep on top of email processes.
When we were using Gmail, we had no visibility into what emails had been sent, without snooping through each employee's inbox. Now, the whole team can see all of the details for every client directly through Pixie.
How have your staff responded to Pixie?
Most of my new hires have at some point had to use clunky CRMs or task management software. Occasionally, I'll get asked if they need any training to use Pixie to its full potential, but I'm able to tell them that it's easy to pick up… and mean it!
They're all smart people of course, but it really helps when a new piece of software is super intuitive from the outset. Each new hire can sit down on the first day, know where they'll be allocated work and where all the supporting information is to help them complete their tasks to a high standard.
‍
‍