Case Studies
How E2E Accountancy made the choice to move to Pixie
We spoke to Martyn Hodgson, co-founder and virtual FD of E2E Accountancy to find out how his team made the choice to move to Pixie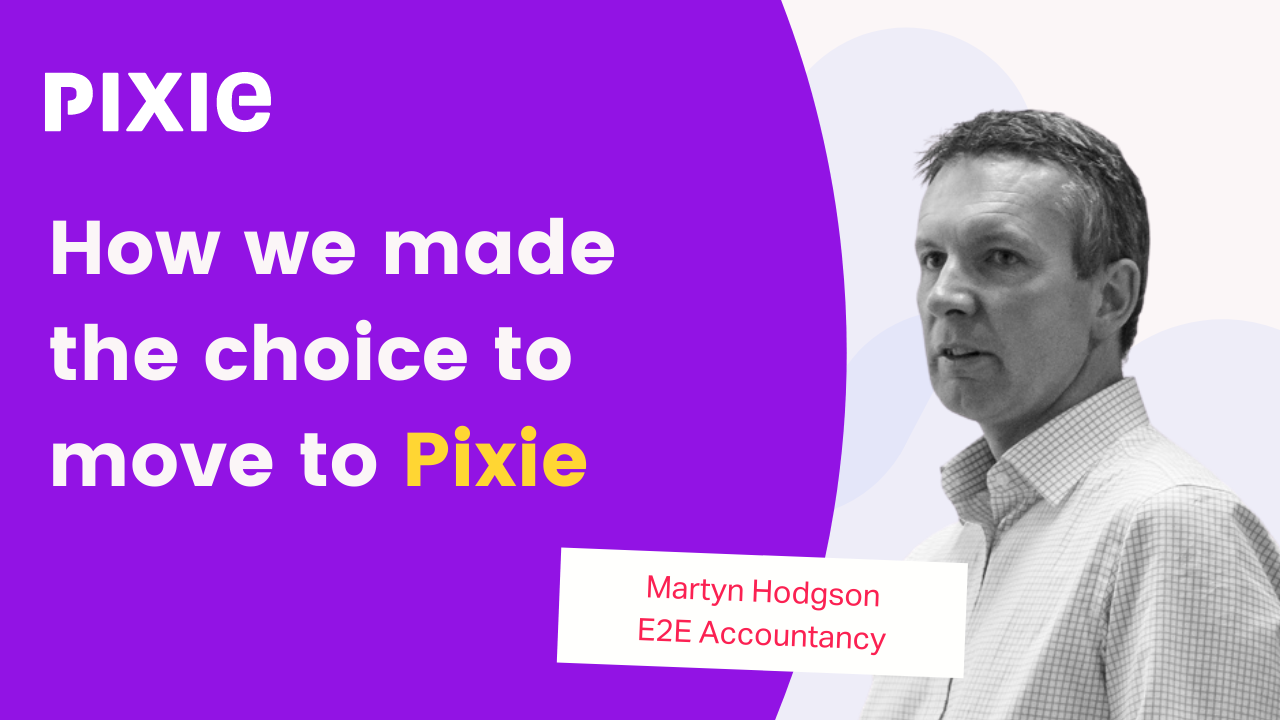 Martyn Hodgson from E2E Accountancy tells us how he's streamlined his ability to keep on top of anti-money laundering regulations, among a host of other things, through implementing Pixie.
Tell us a bit about yourself and your business?
My name's Martyn Hodgson, and I'm the Co-founder and Virtual FD of E2E accountancy. We started off as a firm called Squirrel Accountants, which is now my personal consultancy, and transitioned to E2E Accountancy in 2017.
I have one partner who's more of a sales and business development expert, complimenting my skills on the accounting side. My role is to put process and structure in place for the clients, staying one step ahead while my team does most of the work on the delivery side.
I have a background working in the telecoms industry, but our focus is on early-stage tech businesses. The main reason is that they're coming in from an industry setting, meaning they're not looking for income tax advice or what to do with profits.
Instead, they're looking for forecasting, or a virtual financial director that can sit side by side with the founder or CEO in the short-term when everything's moving fast, cash is being burned, and more money needs to be raised.
At the moment, we've got 20 clients and an outsourced accounting team, an outsourced payroll team, and a couple of employees outside of the UK, all coordinated by Slack.
Why did you decide to use Pixie?
Pixie came to me through word of mouth and I had a lot of confidence that they were going to grow over the years to come.
Our decision making process for implementing new software solutions largely consists of me chatting to the founder asking where they think their software is going to go. In my head, it was about backing future potential over an existing player with a full feature set that's not quite right for what my team and I need.
I spoke to the founder, Celso Pinto, and he hit all the nails on the head: simple pricing, a Xama automation integration that was going to get better over time, and a general honesty about the product combined with optimism that I found very refreshing.
Indeed, a platform like Pixie is only going to grow in functionality as you get more users, but our use case is quite simple - a CRM with anti-money laundering features that we're incredibly happy with.
How did your team feel about the transition?
My team embraced Pixie wholeheartedly. I normally start off by sending out a Loom video after playing around with the particular feature and workflow in question. Pixie's team is great at confirming anything I'm not sure about, and I've got almost full buy in.
Of course, not every person in my team is able to intuitively understand new technology immediately, but it's easy enough to ask them to play around with a feature and trust they'll understand.
It's straightforward for most to follow, the processes are clearly defined after they watch my onboarding videos, and I'm happy about how things are going.
What makes Pixie a good choice for smaller firms?
We're not a company with 100+ clients with changing requirements every day. We're more of a pseudo-consultancy that has similar requirements for most of our clients. In this context, it was great to have a platform that we could set up in minimal time and trust to almost run itself – with guidance and input from our team on the ground, of course.
The other thing I was very fond of was the transparency they had with their roadmap. It's never been the case that we've had to chase up with the Pixie team about things they've promised to prioritise. Rather, we see items on the roadmap, they're brought to life on time, and our confidence in them increases as a result.
I mentioned Xama integration as well, especially as it ties in with our anti-money laundering focus. For firms where this is a major concern, Pixie has been a lifesaver. Even when there's been an occasional hiccup, I've yet to use another software solution with such an enthusiastic team looking to help us out and provide an effective solution.
‍