Best Practices
7 of the best time and billing software for accountants: Critical reviews
Discover 7 of the best time and billing software for accountants to use when tracking time in their firms.
Time is money. Lost time is never found again. Time is the most valuable thing for your accounting firm…
Yes, they're all clichés, but they're all true – right?
If you're looking for an article to argue the pros and cons of time tracking, this isn't it.
This is for the firms who have decided that time tracking is part of their billing process and/or use time tracking as a way to measure the profitability of jobs and clients.
Searching for and choosing exceptional time and billing software really comes in handy for this. So, to help, we've put together this guide to the best time and billing software for accountants to give you one less burden to think about.
Take a look and make your choice! But, before we dive in...
‍
What is time and billing software for accountants?
Let's first address the question of what time and billing software is. In case you don't know, time and billing software enables you to accurately keep track of how much time is spent on your clients and jobs.
As an accounting firm, you'll know that time and billing can be two related factors (depending on your reasons for using it).
You'll also know that they can be a pain to track. But, using the right software fits into this picture like the final jigsaw puzzle piece.
The best time and billing software will guarantee that your numbers are as accurate as can be at the end of the day, making billing a breeze, and reporting on profitability much easier.
‍
What are the advantages of time tracking apps?
Time tracking software is key for accounting firms that want to track time. Why? Because, as well as making it easy to track your work, they offer plenty of advantages. Some of the benefits of using time and billing apps include:
Give you precise estimates for time spent working for your clients
Enable you to price accounting services accurately based on the time spent
Help you to streamline some repetitive, monotonous admin work and reduce data entry
Allow you to measure the profitability of specific clients and jobs
Help you to identify team members that might take longer to do things than others
So, if you came across this post searching for the benefits of using this software you found them! But keep reading, because there are so many to choose from.
‍
Best time tracking software for accountants
Here's what you've been looking for – our list of comprehensive reviews of the best time tracker and billing software. We've taken the various time and billing apps for accountant's reviews into consideration, so explore your options in detail and then make your choice!
‍
1. Clockify
We're starting the list with Clockify – an incredibly popular, powerful, and free time tracker that's ideal for small teams. Millions are using Clockify to track their time with ease.
Now, there are many advantages to using Clockify. To start with, this time and billing app gives you an accurate overview of your workweek. It means you can monitor the amount of time you spend on each activity and enhance your workplace productivity.
What's great about Clockify is that monitoring billable hours is very straightforward. You can choose to mark your time records as either billable or non-billable, and then present your prospective clients with an in-depth breakdown of where your time was spent. Going forward, this makes billing really straightforward.
Here are some of the fundamental features of Clockify:
It lets you log your time in a timesheet
You'll be able to organize your time and separate it into project categories
You will have access to customizable reports, and
Exporting your reports in various formats (PDFs, CSV, and Excel) is simple
Another bonus? Clockify has a number of integrations, which include Asana, Trello, and Pixie. These integrations offer Clockify's users the advantages of tracking time where they work.
Clockify's integration with Pixie, for instance, makes it simple for Pixie users to track their time with no additional cost! This time can be tracked from inside your Pixie workspace, either on a client's record or directly from a task.

If you want to use Clockify with Pixie it's easy. Simply create a Clockify account, for free, install the extension for Chrome, log in to your Pixie workspace and click 'start time' on the Clockify button. It's a piece of cake!
‍
2. TimeCamp
A free time tracking software for accountants that has various features, TimeCamp makes it easy to monitor expenses, keep tabs on your budget, manage your projects, and stay on top of payroll.
Tracking time automatically is simple with TimeCamp, just make use of the desktop app to begin monitoring your hours. It runs in the background and works using a timer that you can activate with the click of a button.
As well as creating reports automatically, you'll also find that it even produces timesheets and reports. And what are the advantages of TimeCamp's reports? You will easily be able to organize and view the details on your projects and monitor the costs.
There are various other advantages to using TimeCamp. Using it is incredibly easy, and there are numerous features.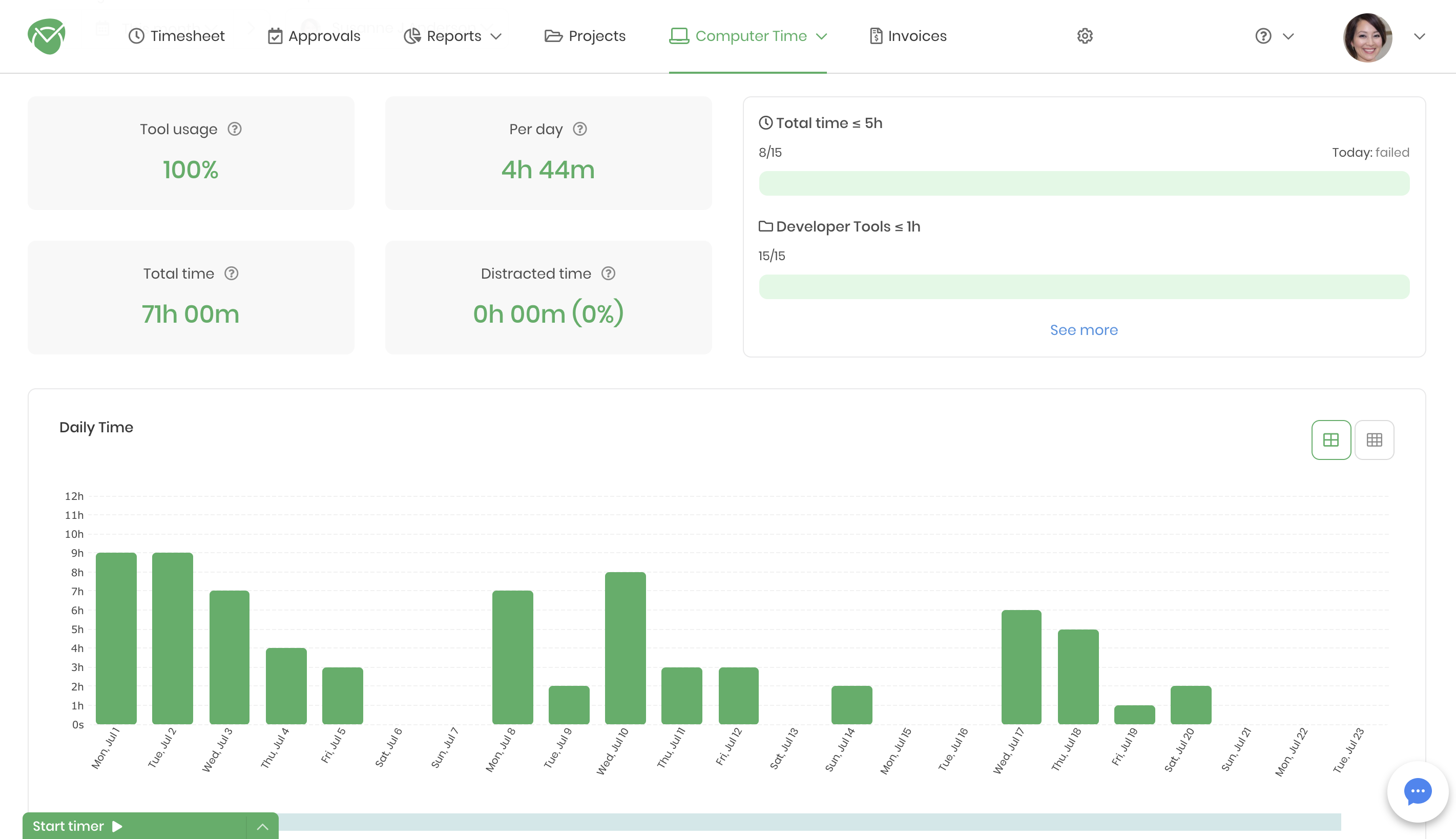 The main, essential features of TimeCamp that will benefit you include:
Budget allocation for certain tasks and projects
The ability to track both billable and non-billable time
The option to predict likely costs in the future, accurately
The option to generate quotes
Invoice creation which are generated based on the hours tracked by the software – (the invoices can be sent to your prospective clients from TimeCamp through email)
The great thing about TimeCamp is that you can use it for free – and you'll be able to use it for an unlimited number of projects. If you'd like to try TimeCamp out, you'll have a 14-day trial to sample the features and find out how beneficial it is.
‍
3. Chrometa
The smart combination of time and billing features that Chrometa boasts is highly useful for CPA firms. But, why else is Chrometa so useful?
Not only is this type of time and billing software an economical choice, but it also gives you the freedom to scale, as it offers three different plans. It's ideal for small and medium-sized accounting firms too.
What's great about Chrometa is that it makes tracking messages and information as simple as it can be for various reasons – one of which is that you can track your information using its synchronized cell phone app.
It also lets you send your data to timesheets and a large number of compatible billing systems.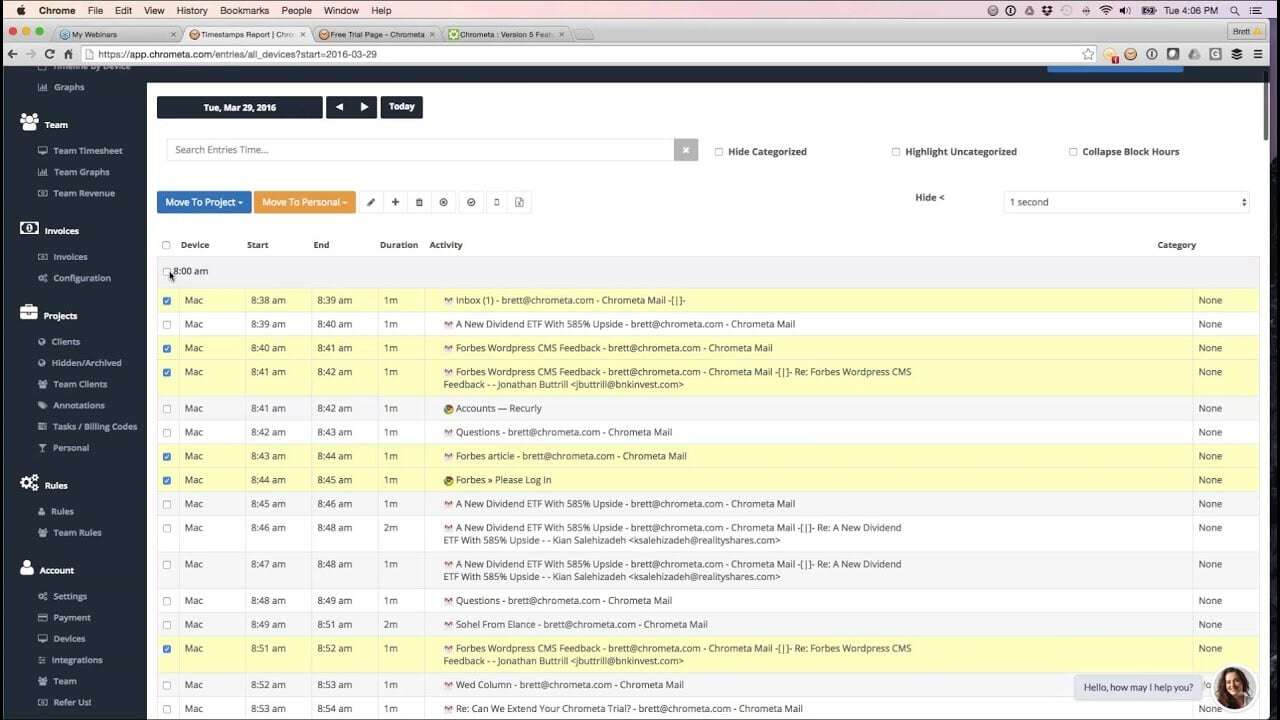 ‍
Other advantages of using Chrometa include:
There's no need to use separate timers with Chrometa
Your activities will be tracked automatically and then recorded on timesheets
Chrometa is compatible with iOS and Android, Mac and PC
You'll be able to customize your timesheets, making them more suitable to your needs
On the downside, Chrometa has one main drawback – you won't be able to add expenses to your invoices. Plus, Chrometa doesn't offer many available integrations with accounting practice management software.
Nonetheless, Chrometa is an affordable time and billing software option for accountants, with prices ranging from $19 per month (for a standard plan), to $49 per month (for a premium plan) – which is priced per user.
‍
4. Tick
What makes Tick unique? Well, it offers an extensive number of handy features. This time and billing software lets you track the time spent on projects and tasks, gain budget feedback in an instant, and track the remaining time you have left for your projects.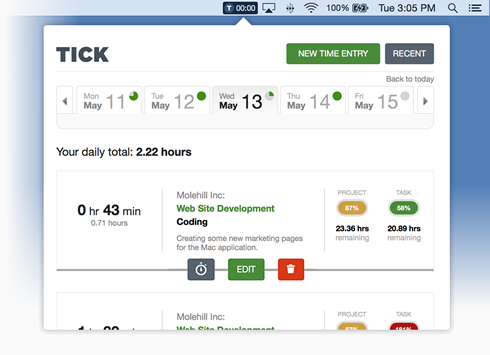 It has other features, too, offering you the ability to:
Browse the time entries you have
Use a reliable running timer, particularly for accurate time entries, and
Use it on iOS, Android, or your desktop
Tick is also very easy to use. This is another selling point that makes it appealing – anyone can use it! And, a bonus is that you'll be able to access your data that has been collected by the software in its timesheets.
Above all, though, Tick can be integrated with a wide range of accounting software, making it an ideal time tracking app for accountants.
To see the benefits for yourself, you can test out Tick with a free 30-day trial. Then, if you find that it's the ideal software for your firm, you'll have to pay upwards of $19 per month, with $19 being the lowest plan for 10 projects.
‍
5. Quickbooks Time (formally TSheets)
Quickbooks offers a range of advantages to its users. It's a powerful app for accountants. Here's why.
To start with, this time and billing software is ideal for time tracking as it lets you track time in just one click.
With Quickbooks Time, you can enter your time in various ways. This is because the software offers smart ways to track time. You'll notice the option to clock-in quickly, for instance, regardless of the platform you use to track your time. This means that from desktop to tablet to cell phone you can track time from a range of devices.
Then, there are the integrations it offers. The extensive range of integrations offered by Quickbooks Time makes it an ideal choice for synchronizing time tracking information with payroll.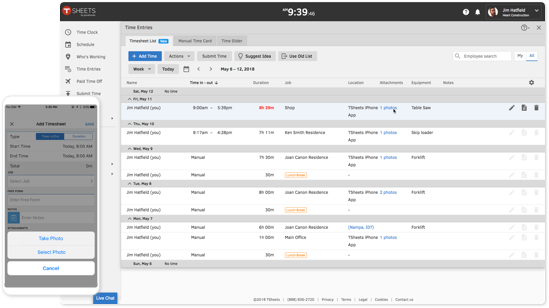 Some of the integrations include:
QuickBooks
Xero
Sage
Asana
Salesforce, and
Square
Added to this, you'll have the option to make calculations in terms of holiday rates with ease, as Quickbooks Time lets you monitor and track your overtime.
But which accounting firms is it deal for? Qucikbooks TIme (formally TSheets) is used by a range of small and medium-sized accounting firms. The good thing about TSheets is that it offers a range of different plans, and this makes it scalable.
So, TSheets lets its users choose from Premium and Elite plans – at $10 per month and $15 per month respectively. And you needn't worry, you'll still be able to track your time from the device of your choice, regardless of the plan you choose.
‍
6. Toggl
The Toggl app is ideal for time tracking and planning projects. It's simple to use, which is a huge selling point. But we've just scratched the surface of Toggl's advantages
Not only can you use it as a browser extension, but you can also access it from a range of platforms. From desktop to mobile to web, tracking time with Toggle is straightforward and incredibly convenient.
What also makes Toggl unique is its various integrations with project organizational tools. As well as Trello, Slack, and Asana, the Toggl app can be used with Jira. But its integrations even go beyond this – the app works with over 100 tools.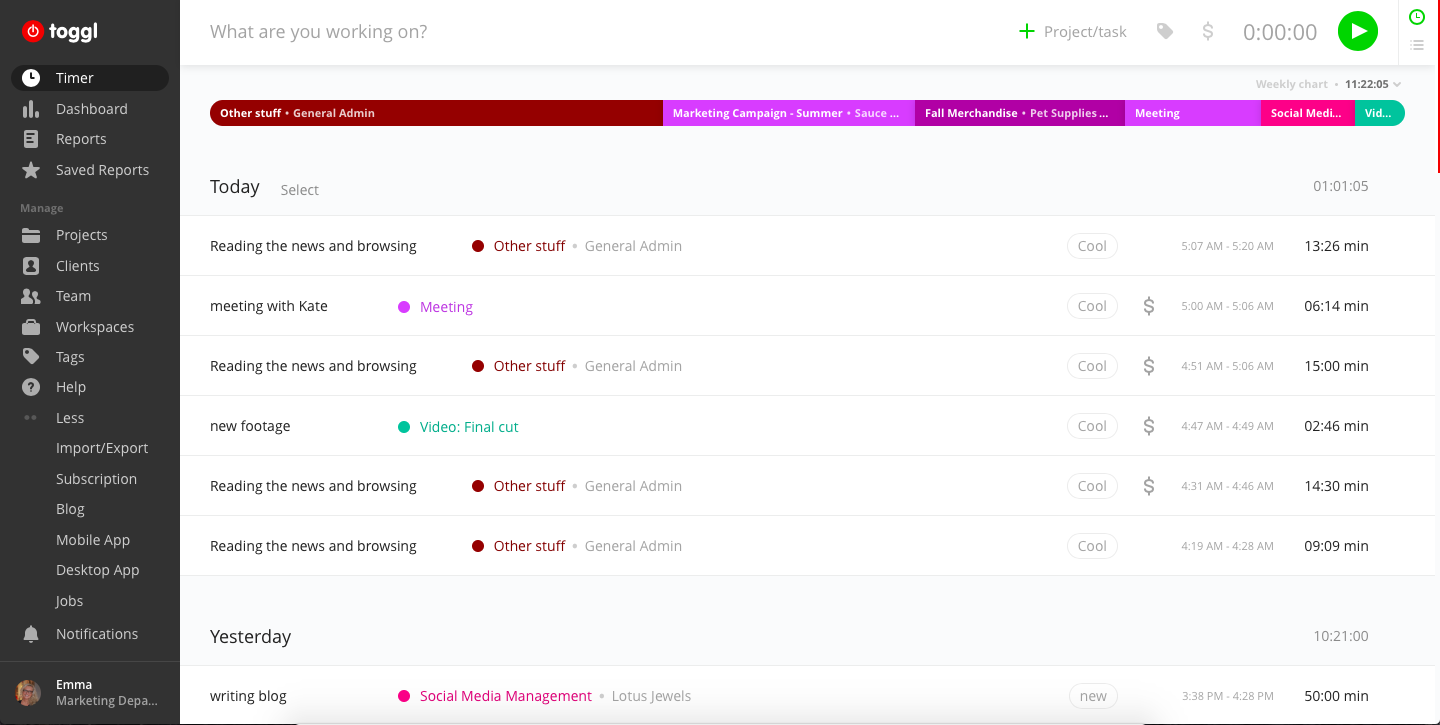 ‍
Some of Toggl's other advantages include:
You can track time from anywhere and even switch between browsers when tracking time
Editing your time entries is easy, and you can even delete the entries you don't want to keep
In addition to real-time tracking, tracking time manually is possible
With Toggl, you can keep track of the programs and domains you accessed for more than 10 seconds
If you choose Toggl for your time tracking requirements, note that this app is actually free to use if you have 5 team members or less.
Its basic version is ideal for those who work individually, but if you need something more comprehensive, you can choose to scale.
The prices start at $9 per user per month, but for the premium version you can access many more features, which will cost $18 per user per month.
‍
7. Ronin
If you're on the hunt for an easy-to-use time tracker and billing software, Ronin is a good choice. It's a web app ideal for tracking and monitoring time, and it also helps you create invoices online.
This time and billing software is ideal for accountants for various reasons. Not only can you monitor your expenses against your prospective clients, you'll also be able to set your budget.
Another advantage of using Ronin? You can make use of a few integrations for making payments. So, from PayPal to Authorize.net, you'll find that organizing payments is straightforward.
You can also use a few other integrations, which include Stripe and Zapier.
What's also great about Ronin is that you can create customizable invoices using HTML and CSS. It's ideal for making your documents unique to your firm.
You'll also notice that, as well as generating recurring invoices at your preferred intervals, you'll be able to send your invoices and estimates in a vast range of currencies – which is ideal for the billing side of things.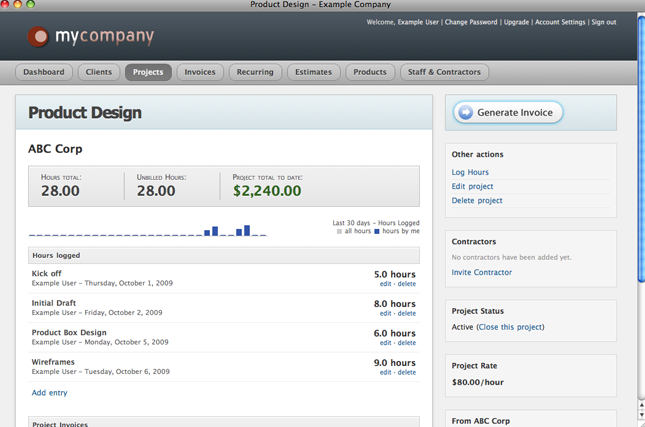 ‍
Some of the benefits of Ronin include:
Ideal for teams
Easy to use, but powerful, and
Accessible from the cloud, meaning you can use it from your desktop, cell phone, or your tablet
If you choose to use Ronin, you'll be able to take advantage of their free version and discover the basic features that it offers. Then, if you decide it's the ideal time and billing software for you, you'll be looking at $15 each month to continue using it.
‍
Start using time and billing software to track time and billing with ease
Tracking time and billing is difficult, but you can achieve it! All you'll need is to choose the ideal time and billing software for accountants. Remember that there are so many advantages to using time and billing software. You'll be able to:
Track time with ease
Log your time in a timesheet, and
Organize your time into projects
One final point – don't forget that you'll even be able to use it with top accounting practice management software (like Pixie).