Best Practices
8 reasons why small accounting & bookkeeping firms love Pixie
We could wax lyrical about Pixie all day, but what do our customers say? Here are 8 reasons why small accounting & bookkeeping firms love Pixie
If you're reading this then I'm hazarding a guess that you're:
Stumbling across Pixie for the first time (hey! welcome…)
Evaluating Pixie against some of the other tools available
Ready to jump in but you're just looking for that last small nudge
Well, we can 'wax lyrical' all day about why we think Pixie is great, and why we think you should start using it.
But what do the small firms using Pixie love about it so much? The people in the trenches using it on a daily basis?
What made them switch from using spreadsheets, Asana or other practice management apps?
Well, you can take it straight from the horse's mouth...
We've taken some of our reviews on Capterra and picked out 8 key reasons why small accounting & bookkeeping firms love using Pixie.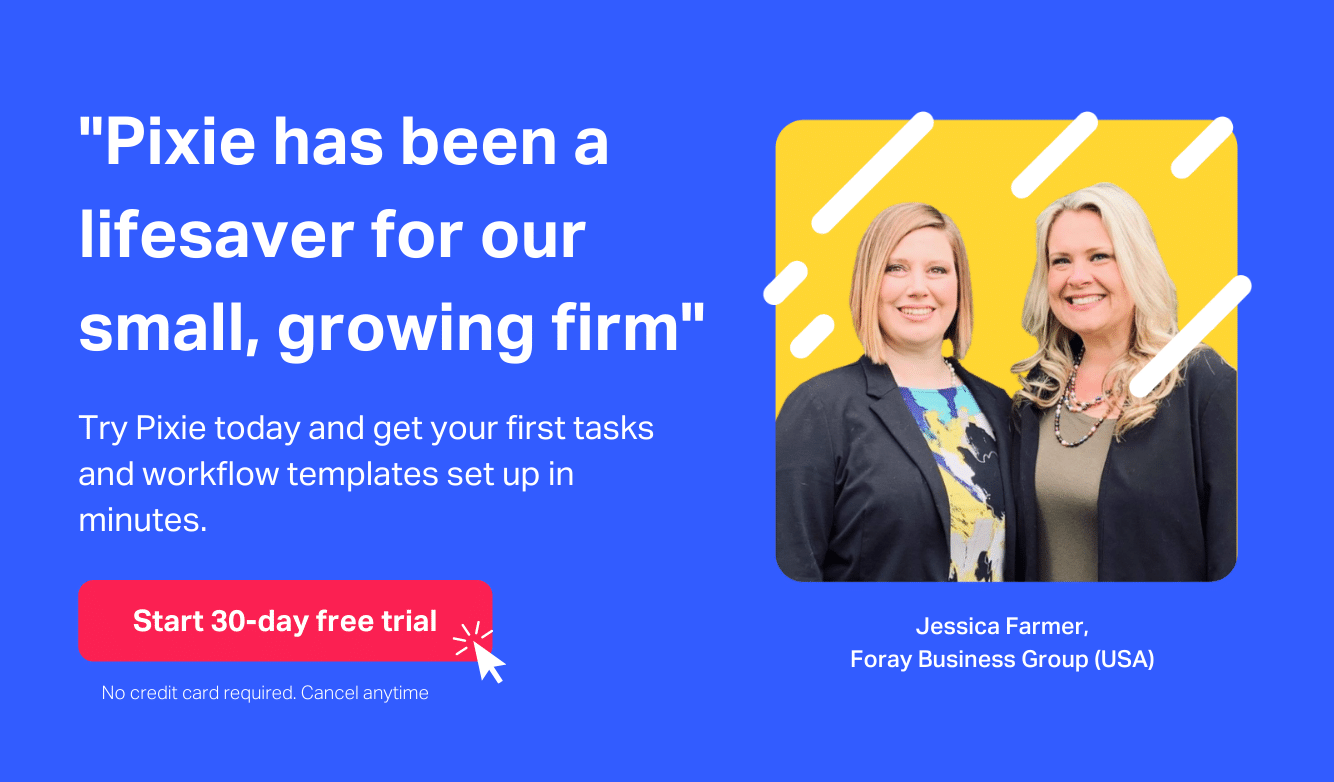 1. Super user-friendly and simple to use
"The most impactful thing about Pixie is the ease with which you can set it up. Super user friendly and you can be up and running with the software within an hour unlike other programmes I've researched" - Tracy B
We know how busy it can be running a small accounting or bookkeeping firm. And the last thing we want to do is create another huge project to add to your never-ending to-do list.
That's why we're - slightly obsessed - about making things as simple as possible for you in Pixie.
Yes, you'll find some bells & whistles like our automated email reminders and client tasks, but everything is user-friendly and easy to get up to speed with.
You'll love using it, and so will your team!
2. A clean user-interface that isn't overwhelming
"For most of our business life in the past 11 years we used non-sector specific tools to manage tasks. When I found Pixie, I was immediately drawn to the user interface - it didn't overwhelm!" - Kieran P
I'm sure you've seen those apps before…
The ones that promise the world about all of the fancy features they have and things they can do, and then you log in to find a clunky, overwhelming dashboard where nothing makes sense?
Uh. It pains me to think about it.
In Pixie, as well as keeping things as simple as they can be, you'll also find a user-interface that is clean and easy to navigate around. Practice management software is something you and your team will use on a daily basis, you don't want to hate logging in every time…
3. A Workflow template library to help get you started
"I love the increasing library of workflow templates that can be plug and played into our practice helping us improve service to clients as well as the automated client emails that can be built into our workflows" - Ben C
To help get you started on your practice management journey even faster, we have a growing library of workflow templates that you can start using right away.
There are templates for tax, bookkeeping, payroll, sales, pricing and everything else in between (at the time of writing, there are over 50 available!)
These templates can be easily customised to suit your firm (see point 6 below) and can be imported into your workspace in just a click.
You can see the workflow template library here.
‍
4. Take control of your email communications
"I've also been delighted to see how it helps to cut through the clutter with email communications with clients, which is a real help to making sure nothing slips through the cracks" - Gabrielle F
Email is one of the most popular communication channels between you and your clients, which is why managing it alongside your tasks and client records is key.
With our email integration, you're able to:
Automatically prioritise incoming emails from clients
Turn emails into tasks in just a click
File emails automatically on client records and attach to tasks
Delegate emails to team members to deal on your behalf
All of this means that you'll spend A LOT less time managing your inbox each day, and nothing will fall through the cracks again.
5. Built exclusively for small firms
"Pixie is great for small to medium accounting practices" - Wernardt T
A lot of the apps and products that get built for accountants & bookkeepers aren't necessarily built with small firms in mind.
Often, they're built for larger teams with more complex needs & requirements, and much larger budgets.
Here at Pixie, we're ONLY focused on small accounting & bookkeeping firms. We even have an education section on our website called 'The Small Firms Hub'.
If you're a team of 2-10 people, and you're looking for a practice management app that ticks some of the boxes we've ran through already in this article, then Pixie might be right for you.
6. Easily customisable and flexible
"Very easy to use and love the fact you can customise as much as you want" - Nathan C
When implementing a new practice management app, there will always be certain things that you need to customise in order to make it fit right for your firm.
Sometimes though, apps make it harder than it needs to be and are often inflexible or take a lot of time and effort (something you don't always have as a busy small firm owner).
In Pixie, we've tried to make it as easy as possible to customise and flex things up including:
Customisable client records with custom client & contact fields
Flexible drag & drop workflow templates
Customisable email templates with custom placeholders
Custom client types
Customisable task labels and label colours
This means you can tinker and tailor to make Pixie work for your firm.
7. Reduce the number of apps you use
"There are so many great features that reduced my number of softwares used" - Kimberley E
App overwhelm is a real thing!
Not only does it cost you a lot of money to manage multiple app subscriptions, it also costs you a lot of time.
Think about the time it takes to jump and juggle between multiple apps to try and achieve something. Now thing about how much time could be saved if that same process happened entirely within one app.
Not only that, but trying to take control and get visibility over everything that's going on can be really difficult when the data lives in multiple apps. There's no single source of truth.
With Pixie, it can be the one app where you manage everything relating to your clients, deadlines, workflows, emails, files and team.
‍
8. We don't do per-user pricing
"Pixie has a great pricing structure making it affordable for small firms as they grow" - Caroline H
Here's the thing…
Practice management, workflow management, client management software, whatever you want to call it - when you strip it back, it's collaboration software.
And if you're worried about adding additional team members and consider 'sharing user licences' to cut down costs then it kinda defeats the purpose of collaboration.
As a small firm, it's likely that you will want to add additional users at some point, and whether they're part-time, full-time or contractors, you shouldn't have to worry about incurring additional costs.
That's why we have a straightforward, per-firm pricing structure. So it doesn't matter whether there are 2 of you, or 10, the price you pay will remain the same.
Ready to jump in?
So there we have it, 8 key reasons why small accounting & bookkeeping firms love to use Pixie in their business.
Super user-friendly and simple to use
A clean user-interface that isn't overwhelming
A Workflow template library to help get you started
Take control of your email communications
Built exclusively for small firms
Easily customisable and flexible
Reduce the number of apps you use
We don't do per-user pricing
Are you ready to jump in and see if Pixie can help you to take control and get organised in your small firm?